TOUR FROM OUARZAZATE TO SAHARA DESERT 3 DAYS 2 NIGHTS
We will cross through the Atlas Mountains via the stunning Tizi n'Tichka pass, you will see Kasbahs (including having opportunity to explore the UNESCO World Heritage-listed Aït Benhaddou Kashbah)
DAY 1: OUARZAZATE - MERZOUGA
After breakfast at your accommodation in Ouarzazate, we head for the Valley of Draa through which runs the River Draa, one of the longest in Morocco. We will make ample stops for you to enjoy the views and take photos of the natural scenery, the enchanting kasbahs and the many Berber villages built of adobe, which are dotted along our route.
Shortly after a coffee break in Alnif, we will arrive at the impressive sand dunes of Merzouga where we will take tea with the local inhabitants while resting after the journey. A short walk in the dunes will put us in the perfect position to watch the majestic setting of the sun before returning to your hotel.
DAY 2: 4×4 TOUR, CAMEL RIDE AND OVERNIGHT IN CAMP
Following a relaxed breakfast we will make a tour around the oasis which extends around the dunes of Erg Chebbi. This will include a visit to the village of Khamlia, which is populated primarily by people whose forefathers were brought north from Subsaharan Africa as slaves. Our next stop will be at the desert town of M'fis and later we will come across tiny villages and isolated dwellings far from civilisation, before meeting up with some hospitable Nomadic people with whom we will drink the customary tea, either with or without mint, while sitting under their jaimas (traditional Berber tents).
In the late afternoon you will have the option of trekking on camels into the midst of the sea of sand, to watch the unforgettable setting of the sun before spending a magical evening of dinner and Berber hospitality under a canopy of stars. You will spend the night in jaimas.
DAY 3: MERZOUGA - OUARZAZATE (MARRAKECH)
After rising very early in order to be on the camels in time to watch sunrise, we return to the hotel for breakfast and showers.
We will next visit Rissani, previously known as Sijilmassa, and which was a principle stop on the caravan routes from the Sahara to the north. This is where Berbers hold their traditional market 3 times a week, selling everything from clothes to livestock.
Continuing through semi-desert landscape we arrive at the oasis town on Tinghir, possibly one of the most beautiful places in all Morocco. Following the River Todgha upstream, we arrive at the impressive TODRA GORGES, which is only 10m wide in places, yet the walls of the gorge are up to 160m high. After a short stop in the town we resume our route along the Road of 1000 Kasbahs, until we arrive at Dades Gorges. There are some amazing rock formations caused by erosion, making this an ideal location for some fantastic photos.
Finally we return to Ouarzazate, one of the most important towns in southern Morocco which is also famous as a location for the filming of many internationally known films, such as Gladiator, Troy and The Mummy, to name but a few. Tour may finish in Marrakech
NOTE : Your personalised tour of Morocco may be planned to fit your needs and interests. Incentives are provided for larger parties. The cost of this excursion varies according on the time of year and whether you opt for first-class service or a more modest experience.


All Lunches
Plane tickets to / from Morocco
Tips
Own Personal expenses



Pick up and drop off from Ouarzazate
Private transport A/C vehicle
Dinners,breakfasts as itinerary
Camel trekking in desert
Accommodation in Sahara desert camp and hotels
Experienced tour driver



To reserve your tour, contact us via email, phone, WhatsApp or WeChat.
You may use contact form at our website filling up all necessary fields.
We're looking forward to see you soon in Morocco.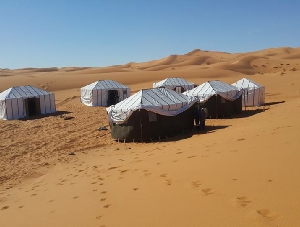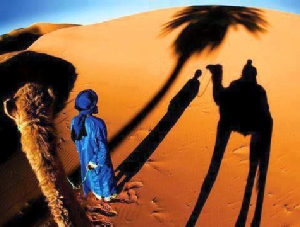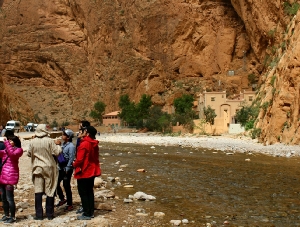 With just your group and a driver/guide, a private tour is run.
Guide that is both knowledgeable and personable
Family friendly
This is a great romantic activity for couples to share.

We departure usually at 8 a.m. in first day of your tour in Morocco.
On the final day of your private tour of Morocco, we drop you off at your hotel between the hours of 7:00 and 8:00 pm.






Reservation

Enjoy Morocco best tour with experienced guides ,drivers.


Fez tours
Casablanca tours
Tangier tours

SAHARA TOUR TO MERZOUGA 3 DAYS FROM OUARZAZATE